What type solar simulator do you need?
Solar simulator is one of the essential equipment for studying solar cells. Everyone wants to have a solar simulator. We want to know what efficiency a solar cell shows just after we assemble the solar cell. The requirement for a solar simulator is a stable irradiance and illumination uniformity. If your solar simulator emits very fractural illumination, solar cell outputs are always unstable. One of the difficulties is uniformity of the illumination. Usual solar simulator emits illumination in shape of square or circle, and usually the illumination area is larger than a size of a solar cell. So, desirably, same outputs occur anywhere a solar cell is put under the illumination. However, these stable illumination and irradiation are difficult to be realized. And therefore, the conventional solar simulators are very big size, which stabilize a power supply.
Are a Lamp House and Power Supply are separated?
Things at which solar simulator user is surprised are a size and a weight of a power supply of the solar simulator. In a catalogue, usually a lamp house of a solar simulator is shown in very beautiful, and the features are showed in detail. But, sometimes, you are not aware of its power supply. The thing is very similar to that you are not aware of an AC adaptor of a notebook computer. You usually check of features and specifications of a main part of a notebook computer, however, you don't know a size of an AC adapter. So, sometimes, you can't bring your AC adapter in your favorite bag. A similar situation something happens in the case of a solar simulator. You buy a new solar simulator, and it comes to your laboratory, and you're surprised at the size and the weight of the power supply! The power supply may bother you. And sometimes the weight of power supply is 30kg or more. You don't bring it by yourself alone. And of course, a desk or a bench where the power supply and the solar simulator are placed will be enough strong. Of course, the connection cables are also very complicated.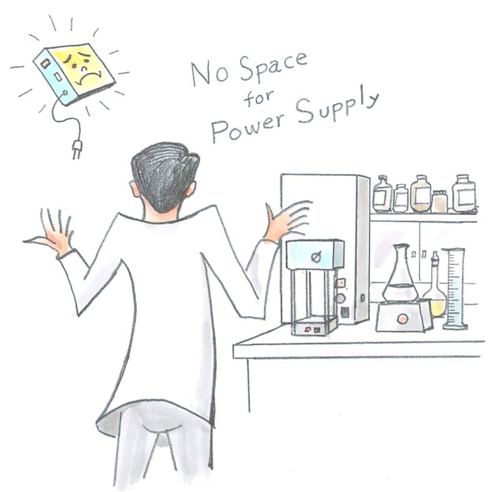 No-space, but a solar simulator is needed
When your laboratory goes into the solar cell researches as a new topic, usually your laboratory is very packed by many equipment and laboratory goods. However, a solar simulator needs a very big space. Because a solar simulator uses very inefficient Xe arc lamp, which emits a very similar spectrum to real sunlight. And usually a power supply of a Xe arc lamp has a big stabilizer of output voltages and currents, which emits some magnetic fields or electric fields, so should be separated from the lamp house. You have to make a spare space for a solar simulator and sometimes something should be taken away.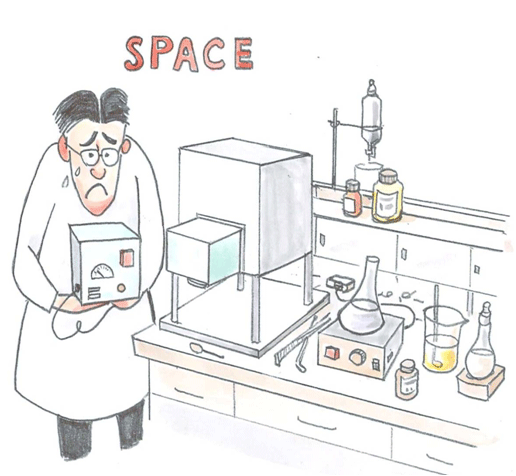 Are there compact solar simulators for narrow laboratory space?
We also were one of the solar simulator users in Japan. We, Peccell Technologies, inc. are a university based venture company basically based on electrochemistry and organic chemistry. And we have been developed a frontier plastic film based dye-sensitized solar cells for 7 years and more. So, of course, we must need to use solar simulators every day. However, the universities in urban area in Japan have a space problem; very narrow laboratories are packed by much equipment and also by students and researchers. But as our researches goes, our necessity of the solar simulators increases, and we want to have many solar simulators in our laboratory. So, we decided to develop the solar simulators by ourselves. Our original design solar simulators have been built; it is easy to use it for us.
User Friendly Solar Simulator
Peccell's solar simulators are developed by dye-sensitized researchers, who use them every day. So, the design is basically based on the user's point of view.